Tuesday, September 13th, 2022
Want to start prepping for Black Friday, but unsure where to start or what's best to focus on? 
As we all know, Black Friday is the biggest time of the year for businesses and with this comes a lot of prepping and strategic planning to get the most out of it. In this article we will help clear up a few important focusses pre-Black Friday.
Pre Black Friday build up – Building up your traffic
Black Friday sales and traffic won't appear out of nowhere, which is why building up your re-engagement and retargeting audiences is so important pre-Black Friday (the earlier you start, the better). 
These specific audiences are already warmed up to your brand and products, therefore come Black Friday when presented with your best promotions these specific audiences are much more likely to convert, in comparison to an audience that has never seen your products before.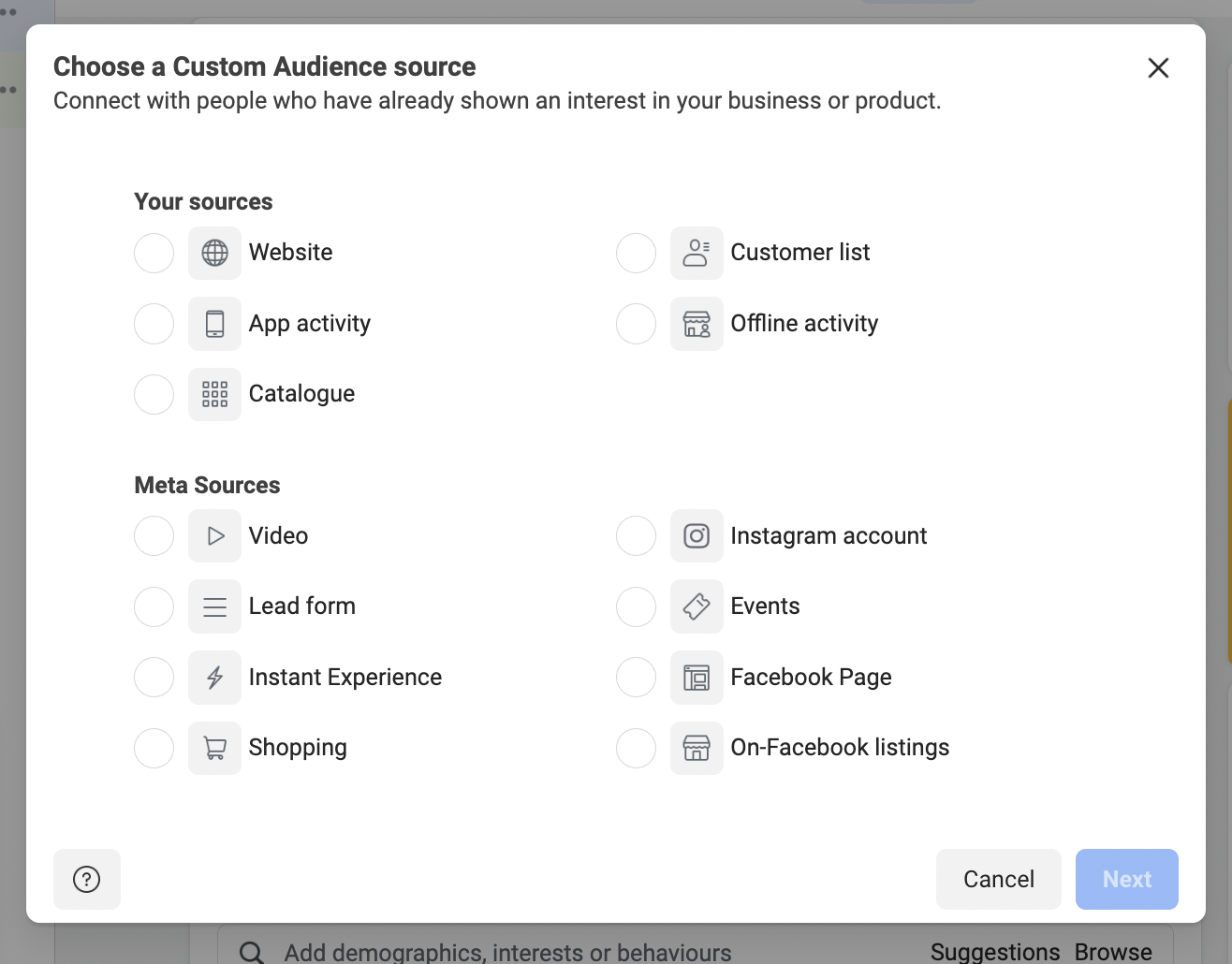 So, what are re-engagement and retargeting audiences?
Re-engagement audiences are people who interacted with your brand through watching or engaging with your brand's social media content, profiles or ads, but haven't visited your site. 
Retargeting audiences are people who have visited/interacted with your website. 
In addition to these audiences, you should also be building an email list. This can be done by offering your website visitors a newsletter, ebook, webinar, discount or something else of value in exchange for their email address.
An email list is another excellent way to present your Black Friday promotions to customers who are engaged with your brand, making them a warm prospect for conversion. This is also a different approach, as some potential customers may be more receptive with email marketing compared to Facebook advertising.
Know who to target during Black Friday
After building up your traffic before Black Friday, you may be thinking 'who should see my ads on Black Friday itself?' As mentioned above we recommend running ads prior to building up warm audiences to retarget, however there is more. 
Alongside this, it's a good idea to optimise Facebook's lookalike audiences, which, in short, takes data from Facebook to create the best possible audiences you are trying to create. For example you can create a lookalike audience for:
– Your buyers from the previous Black Friday
– Purchasers from the last 30, 60, 90 or 180 days
– Ad engagers
– Social media engagement from the last 30, 60, 90 or 180 days
– Website visitors from the last 30, 60, 90 or 180 days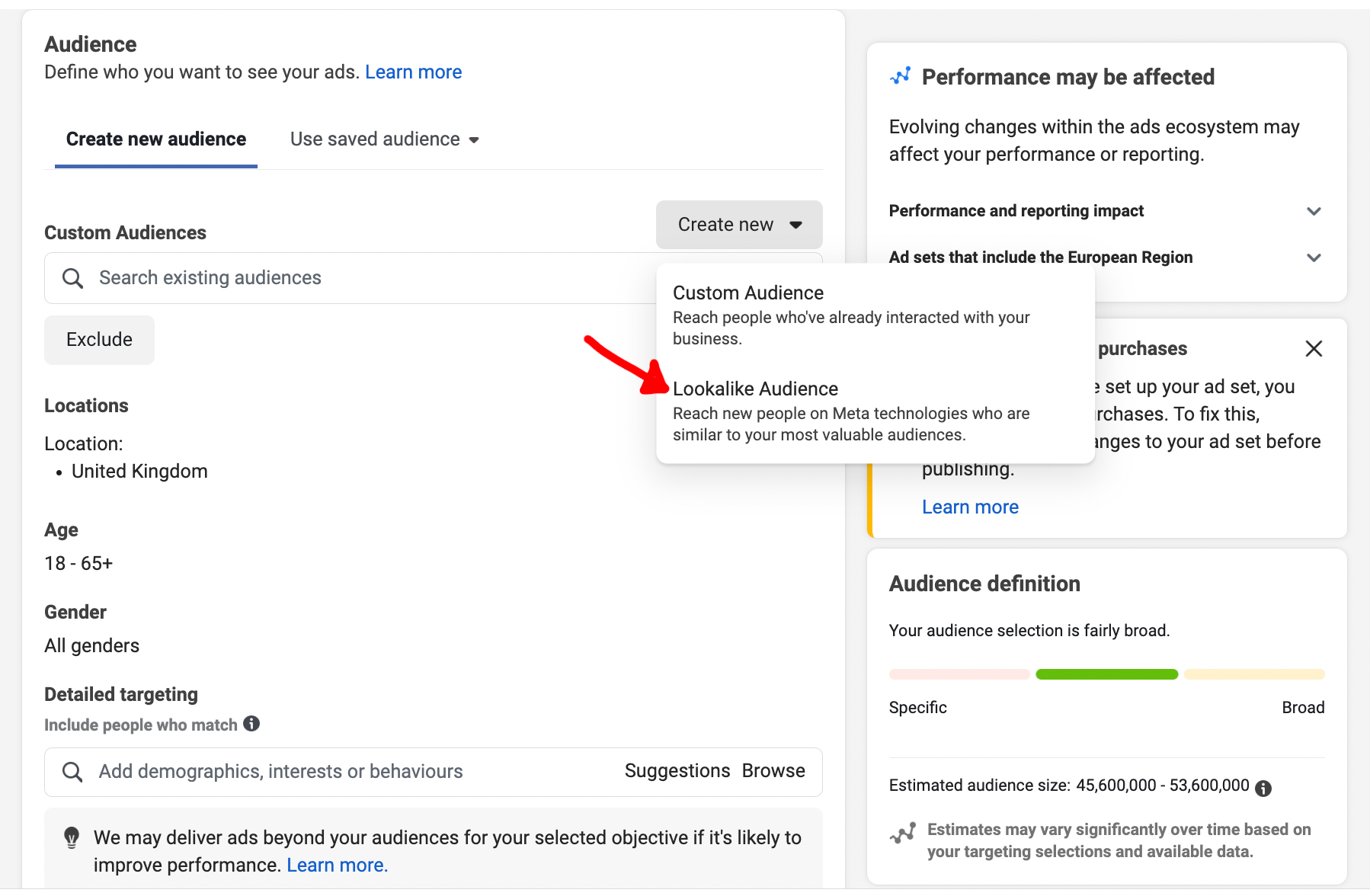 Facebook will then take existing data from customers who have taken the action you want, in order to find more people who may be similar to them, based on Facebook data. 
To further optimise your audiences, you could narrow down these lookalike audiences with interests (depending how big your lookalike audiences are). For example if you were selling running trainers and wanted to build out a lookalike audience of people who have visited your website in the last 180 days, you may want to add an additional audience of people who are interested in 'running' or 'Nike' (or another running/fitness brand). We would usually only recommend adding one additional audience so that you can work out which interest/audience is performing best and why. If you add to many additional interests you will struggle to narrow down which is working.
Additionally you could also use the existing results you have from the ads you've run prior to Black Friday to determine which ads to run over the upcoming Black Friday weekend. If they've been profitable, you may wish to increase the budgets for this specific time to get the best results.
Make your creatives stand out
When data is scarce, time is limited and cost for ads are high, your creatives will be your best shot at efficiently converting your audiences on Black Friday. 
Your creatives don't just act as the main scroll stopper- they're a way of telling your brand's story and the way of visualising the solution you can provide to your customers. Promoting how your brand solves your customers' problems instead of being solely product focussed is a good way to attract them.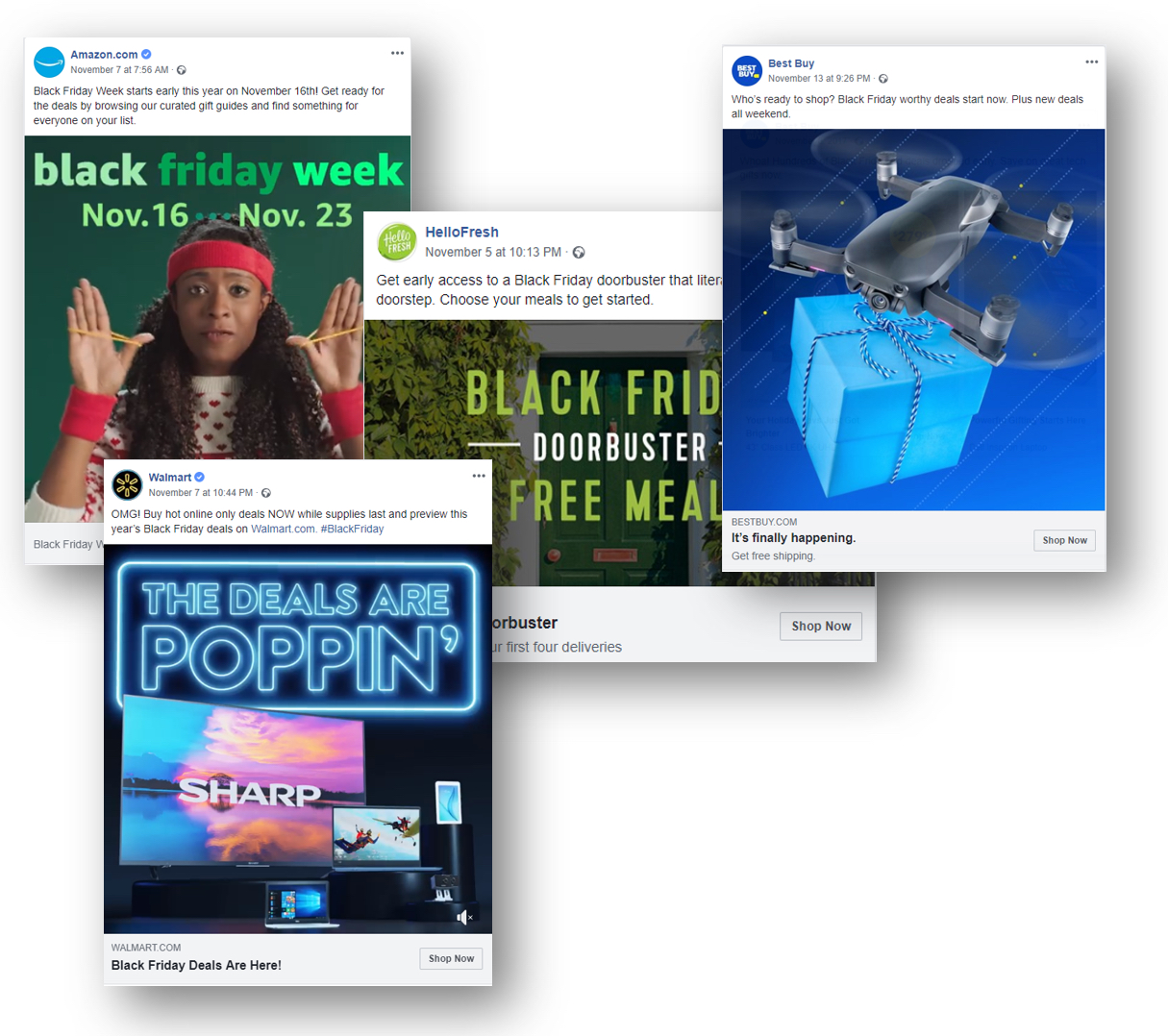 During Black Friday, you'll be competing with other brands for attention, so you want to stand out by being the best solution people are looking for. Just remember: be clear, get to the point fast, and offer your Black Friday deals.
Aside from painting your brand as the solution, it will also help to inform consumers about free shipping, discounts, and any other promotions you are running. So make sure your free shipping offers and discounts are visible to make your products more attractive at first glance.
Creatives aren't all about crystal clear images, they're about the message they deliver to people.
Reform your formats
During the build up to Black Friday is the perfect time to test & reform your formats &  come up with creative ways to get potential customers' attention. When it comes to ad formats, you can experiment and test new, scroll-stopping ads. If you have always stuck to using single images as your Facebook ads, it may be time to experiment with other methods.
– Video ads: Did you know 85% of social media users want to see more video content from brands? That's no wonder, especially when you look at the drastic rise of TikTok, it's not hard to see the way social media consumers are preferring to see their content and this is the same when it comes to advertising to, as we want our creatives to fit right in with the customers feed.
– Carousel ads: Allow you to have multiple images per ad, allowing you to showcase more products and/or go into further detail about the products you are selling, while expressing your brand across multiple images. 
– Dynamic Product Ads: These particular ads allow you to show your desired website visitors the exact products they viewed or added to cart. Therefore this particular ad can be a reminder for those warmer audiences who have shown interest but haven't quite purchased yet.
Tip: Every format and placement has its size and design requirements, so make sure your ads comply with these & also double check the ads are formatted correctly before publishing.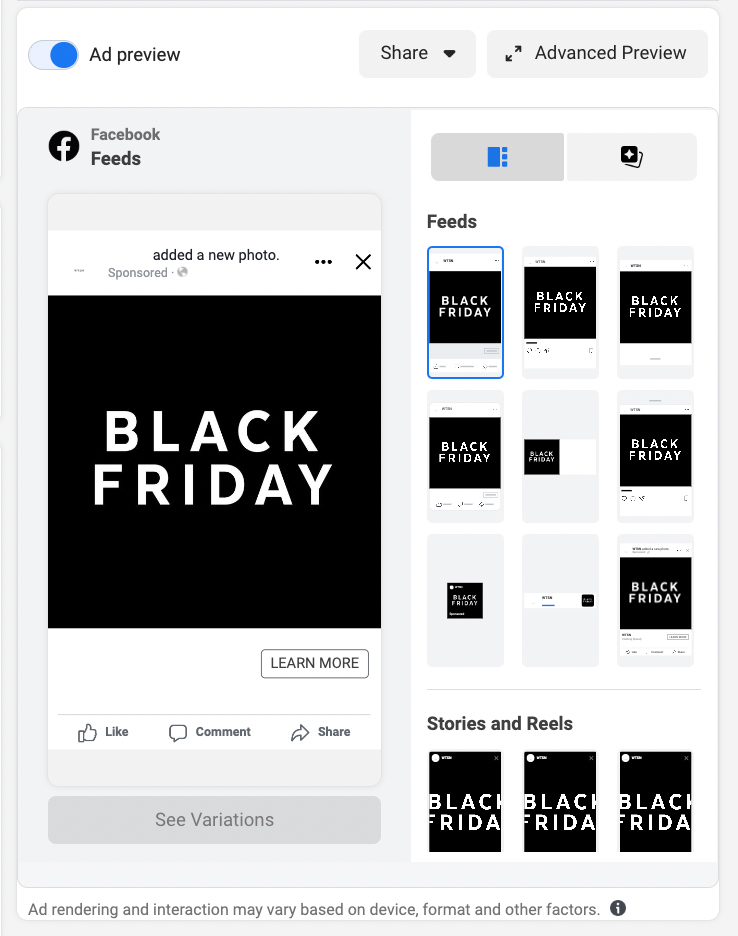 We hope this helps you kickstart your Black Friday marketing strategy and preparation before the big day! 
However, if you still feel a bit lost or you think you need additional help with Black Friday advertising this year then you are in the right place! 
Our team of marketing experts have experienced many Black Fridays and understand what's needed to have the most successful Black Friday possible.
Book a call with us today and lets help skyrocket your Black Friday! 🚀
---