Wednesday, August 3rd, 2022
July was quite an eventful month in the world of Social Media. With viral petitions and the influx of video-based content becoming the new normal on most platforms… on some more than others 👀 
But if you somehow missed out on everything that's been happening on your favourite apps, get the latest rundown from July, and what to expect in the month of August in this month's instalment of Social Media Updates. 
Instagram 
To begin, let's discuss the elephant in the room…Instagram. After receiving a very public backlash over its 'Tiktok-inspired' update – Check out our latest blog "Make Instagram Instagram again": The New Tiktok Style Instagram Update –  Instagram CEO Adam Mosseri finally addressed the controversial update stating ​​"I'm glad we took a risk — if we're not failing every once in a while, we're not thinking big enough or bold enough" – Mosseri went on to confirm that Instagram would be pausing the 'Full-Screen testing' and reverting back to the original layout for the select users who received the update. 
But before you jump for joy, it does not seem like this will be the final attempt for the company to replicate Tiktok's undeniable success; Mosseri continued in his statement about the failure of the testing and stated that Instagram will still continue to prioritise video-based content due to its evident popularity in recent years. 
Like it or not, reels are here to stay.
Facebook 
Following on with the theme of video-based content, Meta CEO Mark Zuckerberg has revealed that Facebook will lean heavily towards being 'Reel' focused, with this style of content being the fastest growing element based on user engagement. 
This is in response to Meta receiving lower than expected results in both app usage and revenue. Despite the intense backlash Instagram received for pushing a similar style of interface and content overall, Zuckerberg has stated that Facebook will be taking the same approach to Tiktok's algorithm – whereby content by users you do not follow will be suggested on your timeline. 
"Social content from people you know is going to remain an important part of the experience and some of our most differentiated content, but increasingly we'll also be able to supplement that with other interesting content from across our networks."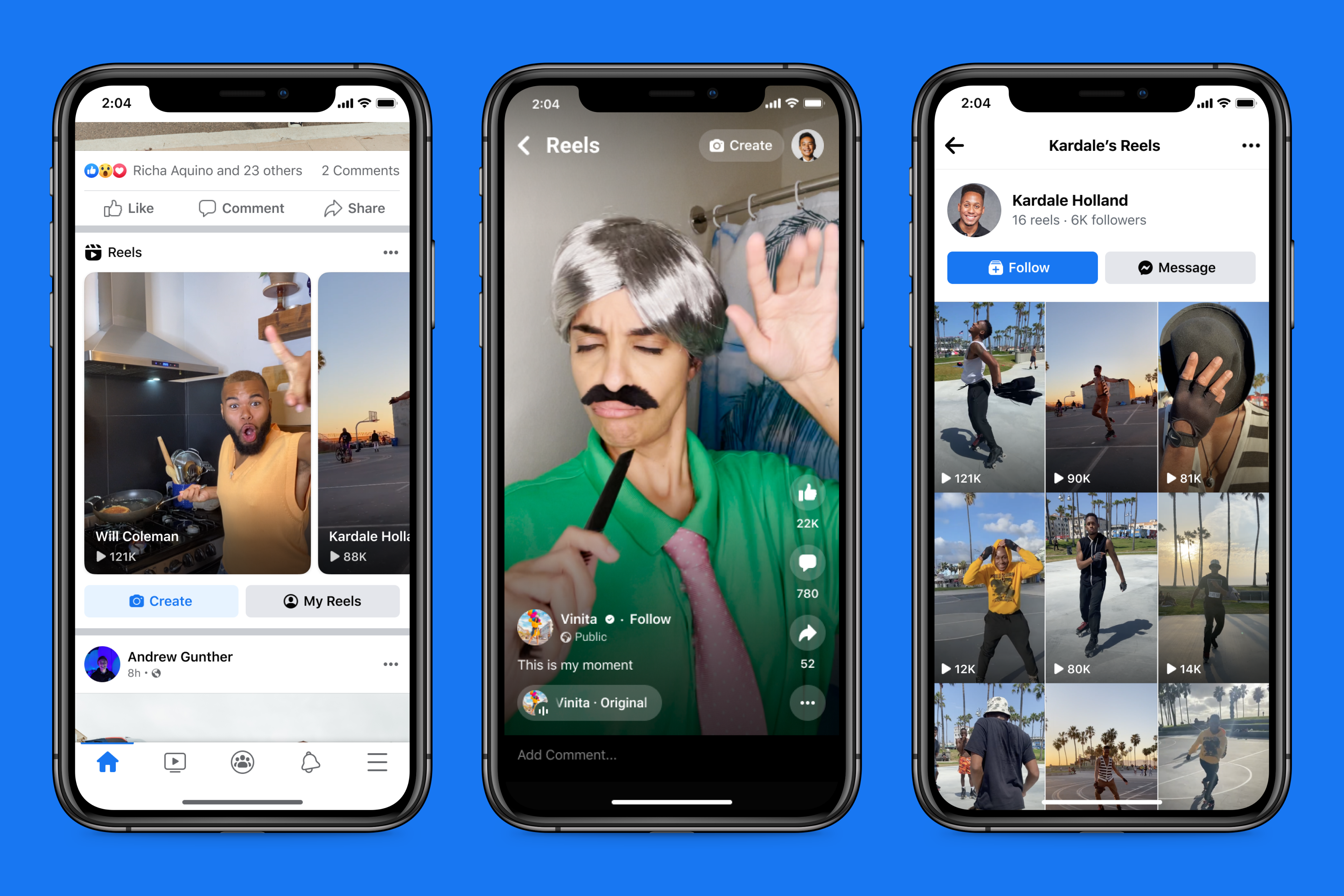 Zuckerberg goes on to confirm that Meta hopes to have doubled the amount of AI-generated content, from accounts that users do not follow, by the end of the year.
Tiktok
Ironically, the app everyone else is trying to be…seems to be somewhat trying to replicate the success of a completely different genre itself. 
It's undeniable how influential Tiktok has become when it comes to music in the charts, with thousands of sounds trending every day – and it looks like Tiktok is looking to capitalise on this.  – Check out our blog post – Trends, Challenges And Charts: Tiktoks impact on The Music Industry 
TikTok's parent company, 'Bytedance' have officially filed a trademark for 'Tiktok Music' with the service allowing users to "purchase, play, share, and download music. It would also allow users to create, share, and recommend playlists, comment on music, as well as Livestream audio and video" (TheVerge.com). 
This platform would be set to rival the likes of Spotify and Apple Music, creating a more 'interactive & social' aspect to the platform compared to their competitors. 
It's unclear how far in development TikTok Music currently is or if the service will even see the light of day, but with Tiktok setting the unofficial blueprint for so many established social media platforms to follow – it's entirely possible that Tiktok could dominate the music streaming industry to the same level.
Twitter 
In some non-video-related news, Twitter has launched live tests for users to 'Set a Status' – so you can show/ tell your followers what you're doing or how you're feeling whilst you tweet!
From what has been tested of the new feature, it has been revealed that you have access to 17 activity options such as: 'Hot Take', 'A Serious Case of the Mondays', and 'Need Advice'. 
These statuses will be added to your tweets and displayed in your and your followers' feeds; with no personalisation option available during this testing stage. 
The Status Markers have received mixed reviews with many stating that they do not add much value to the general Twitter experience – or that the statutes themselves have a very 'gimmicky' or 'cheesy' feel to them. 
But in the world of social media controversies, many are enjoying the seemingly light-hearted update and looking forward to sharing their #ShowerThoughts🚿 with the world!
Snapchat
And finally, Snapchat has officially launched the 'Sounds Creator Fund' to support and encourage unsigned artists to gain distribution and reach via audio uploads. Snapchat audio launched in 2020 which allows users to add a specific track to their Snapchat, similar to the likes of Tiktok. 
As explained by Snap's Head of Music Partnerships Ted Suh:
"We want to support the independent and emerging artists that are driving creation on Snapchat. By providing meaningful funding and creative support, our goal is for artists to feel empowered to continue creating and pursue a career in music."
This opens opportunities for small artists to have their music featured in Snapchat Lenses or in 'Spotlight', leading to a higher reach and new potential audiences. 
And that's a wrap! What are your thoughts on these latest features & updates? 
Here at Social Nucleus, we have an expert team of dedicated Account Managers and creative executives who thrive in making your business's social media presence as successful as possible, no matter the platform. Book a call with us today 🚀
---