Tuesday, January 4th, 2022
As we wave goodbye to 2021, we say hello to another year full of potential and success.
While the new year may mark the end of Q4 and the holiday seasons, it's not the end of your digital marketing strategy. Going into the new year with a strong marketing plan is just as important as going into the holiday season with one. Q1 is the perfect time for reflection and growth and we're here today to share with you 6 ways in which you can kick-start your digital marketing strategy in 2021!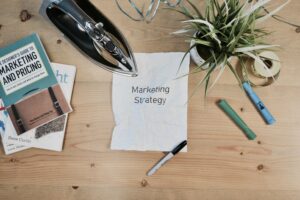 Email Marketing
Email marketing is a great tool that allows you to retain a loyal customer base and discover new winning audiences. It's a great way to keep customers up to date with your business, any offers you have, and new products you plan to launch. With email marketing, it's important you remain strategic and effective, and to do this, you can set up email flows and campaigns. You can easily collect the email addresses of your visitors from your landing pages or previous sales.
Social Media 
What better time to up your social media game than the new year? Social media is definitely the one place you cannot neglect when it comes to your marketing strategy. You can use social media to excite customers about upcoming products, offers, services, etc. It's estimated that 3.6 billion people currently use social media and by 2025, this is projected to increase to almost 4.41 billion. That's a LOT of people you could be reaching.
Something that goes hand in hand with this is your content. Content is a big must when it comes to social media. Platforms like Instagram are huge for businesses nowadays, as younger generations tend to engage with content now more than they do words. Take some time to work on your content. Put together an effective plan – we promise, it'll pay off.
New Year/Boxing Day Sale
Take advantage of the season! The new year calls for sales. People are always after a bargain and the new year is the perfect time to experiment with this. Sales bring in more customers and encourage people to buy when they might not have before. This is a great way to kick off sales and start the new year on a high with extra conversions!
Get to grips with SEO (Search engine optimisation)
Building an SEO strategy for your business is absolutely essential and requires hard work and a lot of technicalities that do pay off. SEO is what brings visitors to your site organically, and if you have a strong strategy in place, you rank higher in search results. If this is something you can do in-house, that's great, but even outsourcing this work can provide many benefits to your business!
Facebook Ads
If you haven't dabbled in Facebook ads before, now is a great time to start. Facebook is a great platform and has many features ANY business can utilise to their advantage. You can reach relevant audiences and visitors who are interested in your brand and fit the demographics of your customer profiles.  You can also examine your analytics across all platforms and determine which audiences you want to target, what key locations you want to look at, what age range, etc. You can use all this relevant information to refine your campaigns and heavily increase your conversions.
Most paid ad platforms offer retargeting services, allowing you to target website visitors, people who have engaged with your posts, and so on. This will allow you to retain those valuable customers who have expressed some interest in your product/service.
Revisit what worked well last year and what didn't 
And last but not least, reflection. Looking back at this year and determining what worked and what didn't is the most important step in building a successful marketing strategy for 2021. What content did you see perform? What audiences engaged the most? What products/services sold the most? Answering all of these questions will give you a better understanding of what works for your business and what doesn't and will allow you to build an effective strategy for the new year.
We'd like to take this opportunity to wish our readers, clients, and employees a very merry Christmas and a happy new year. We hope this post had been helpful, and if you're still feeling unsure about your marketing strategy for the new year, get in touch today. We can help you smash those 2022 business goals.
---